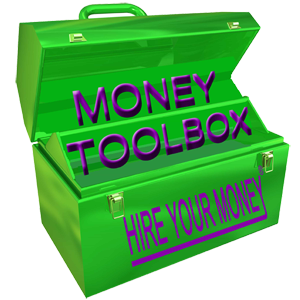 The Money Toolbox is a real problem solver!
The money tools included in the Money Toolbox™ section of the course are real problem solvers! This collection of customizable workbooks and sample documents that will inspire you to develop reliable, real-world skills. As a result, you will be able to use your money more effectively.
You can download the tools and customize them with your personal information, which will help you make money decisions easier regarding credit, expenses, savings, and more. Also, the sample documents help you make sense of common statements like credit reports, account statements, utility bills and paychecks.
No math is required. All you need to do is enter your information on the forms. Then the tools will calculate amounts automatically.
How can the Money Toolbox tools help me?
The Money Toolbox™ section of the course can help you create a successful money life. That is to say, successful in the way you define it. The amount of money that you have to work with does not determine your level of success when it comes to everyday money matters. When used thoughtfully, money is simply a tool that can improve your life and the world around you.
Our signature money tools include:
EzTrackR Money Tool™ – We don't like budgets. They are too restrictive and we often forget them as soon as we make them. We like money plans. With a money plan you can focus on your planned spending and savings goals. So we created the EzTrackR Money Tool™.
This tool uses a simple interview format that helps you identify the categories to include in your plan. Customize the category names. Track your spending and savings each month and get visual cues that let you know if you are over or under your planned amount for that category.
Dreaming, Goaling & Bankrolling™ Tool – Take goal setting to the next level. This tool provides a three-phase process designed to guide you through determining what you want to get from your life. The tool facilitates you setting goals in various categories, such as career, education, relationship, spiritual, health and fitness, and more. By turning your ideas and thoughts into goals linked to an action plan, then following that plan, you can achieve your goals.
Hit By A Bus Planning™ Tool – This money tool is designed to assist you or your family in the event of a catastrophic event. What would happen to your money life if you were suddenly incapacitated? Having quick access to your personal information is critical to obtaining medical and insurance benefits, paying your bills, protecting your credit rating and your money life. Use this tool to record benefit information, bill payment information, banking details, assets, user names, and passwords.
The companion sections to the Money Toolbox™ are the Money Skills Lab™ and the Money Knowledge Builder™. In this section you will begin using money tools to apply the lessons learned in the Money Knowledge Builder™ section.  And the Money Skills Lab™ is a great reference for instructions on how to use each money tool.